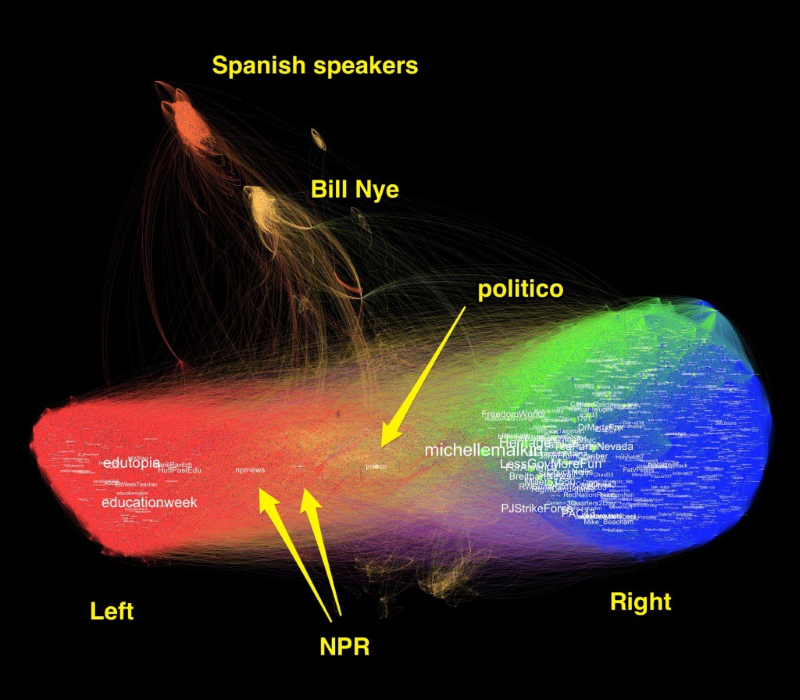 Aankit Patel, a data consultant at NYC Department of Education, has published an interesting article on the Common Core State Standards (CCSS).
The CCSS are nationwide US academic standards for English and mathematics. They were introduced in response to:
American students' declining scores on international tests
differing standards being applied by state education departments
the prospects for low-skilled workers in the modern workforce
It's proved to be controversial, with much of the debate being driven by politics.
Patel analyzed 41,000 CCSS-related tweets from 21,000 users during November 2014. He ran a number of network analyses on the data to obtain insights into the nature of the debate.
One of the interesting results was the diagram shown above. This is based on a "who follows who" analysis. It shows liberal (red) and conservative (blue/green) groups fiercely debating in their own echo chambers. There's very little cross-pollination in the debate. While the debate isn't a simple one of liberal supporters against conservative opponents—liberals are more split—there's seem to be little evidence that stakeholders are receptive to dissenting views.
If this analysis of tweets reflects the wider debate, it's difficult to see anything constructive emerging from it.